UPDATE! 20th Aug 2015 BINGARDEN™ Now

on KICKSTARTER!. Visit: http://kck.st/1hAcyve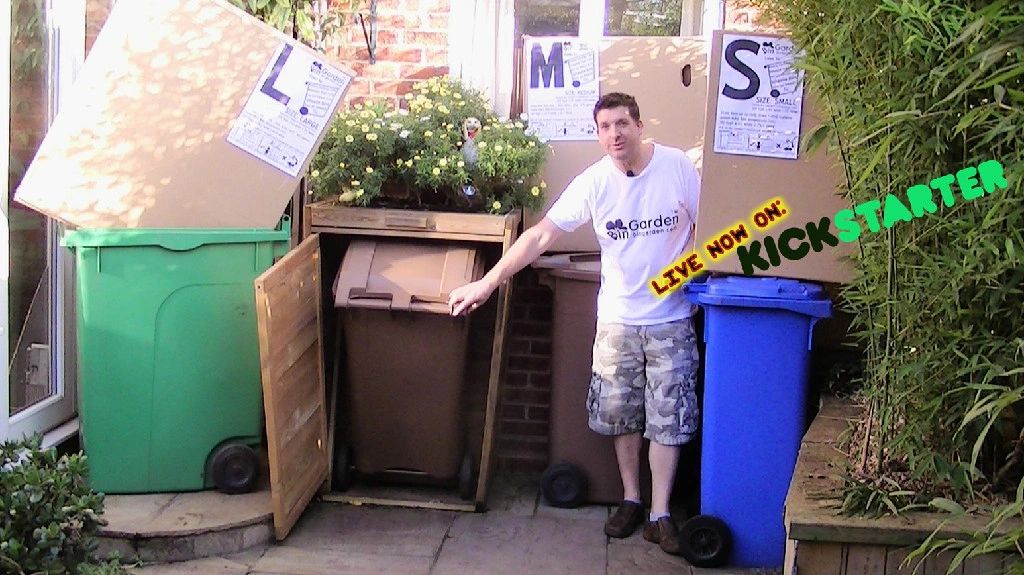 ____________________________________________________________________________________________________________________________________________________________________________________________________________________________
The wheelie bin on wheels was first being used at a factory in Slough, England, solely for internally moving materials around the company's premises to provide ease of movement. The advantages of the bin on wheels was spotted by a sharp eyed visitor who recognised its potential and the modern bin style was patented in Germany during the 1970s by a person named Schneider. It has since been manufactured and marketed under license in many countries around the world. In the UK and also in Australia these two wheeled bins are called Wheelie Bins, in the USA they are strangely known as a Herbie Curbie or Herby Curby and in South Africa they are called Otto Bins. It would be interesting to learn what other names are given to them and also find out just where in the world they are used. Can anybody provide this information, a list would be very helpful?
As the reader will no doubt realise from the above paragraph, the wheelie bin has proliferated in very many nations around the world and Nick considered that as the general public consider that they despoil the visual amenity of gardens and streets, he set his mind to providing an attractive disguise that would visually be a vast improvement over the bin stores currently being sold throughout England. Many people living in the UK take great pride in the appearance of their gardens and will no doubt be very keen to buy covers that will hide their ugly wheelie bins that are being forced upon them by councils throughout the nation.
Having previously created a planter style housing for his old fashioned circular dustbin to visually hide it and also to mask the smells from its contents, Nick, turned his attention to providing a similar disguise for modern wheelie bins, hence the "Wheelie Bin Cover" was designed from the outset to be patentable and prototypes were constructed in total secrecy. After having employed professional legal assistance to prepare and enter its patent application Nick informed his local newspaper, - "The Wokingham Times" which published his story at that time. This article may be viewed by clicking here Soon afterwards the Daily Mail picked up on the story. See the article by clicking the picture below:



To see a description for the Wheelie Bin Cover Invention, please visit: www.wheelie-bin-cover.com and to see other inventions click: www.obtain.co

Nick is Managing Director of Bin Garden Ltd and may be contacted by phone on:

+44 (0) 844 4931 544 (Calls cost 7p per minute plus your phone company's access charge) -

or via email on: sales [ @ ] bingarden.com
N.B. Licensing talks can be arranged with the licensing agency
Nick's idea evolved due to his living in a modern open plan housing estate where the only place to position a dustbin was directly beside his front door. The bin was seen as unsightly and frequently gave rise to the emission of smells from used nappies and kitchen waste. Not very suitable for doorstep conversations, but unavoidable!
Since having enclosed his old fashioned dustbin in a timber compartment having a top adorned with flowers to alleviate these problems, he knew the solution worked well as this arrangement transformed the doorstep ambiance which then was neither ugly nor smelly. No longer was the doorway a place to rush away from. Doorstep conversations were not a problem anymore as there then stood a large planter radiant with beautiful flowers emitting pleasant scent. Occasionally Nick replaced the plants with a fresh display which his family, friends and visitors found pleasing. His bin disguise became a frequent discussion point. A visiting acquaintance was so impressed that he suggested Nick should patent the idea.
Then taking advice regarding patenting from his experienced father from the outset, Nick was made aware of patent regulations and he was determined not to fall foul of the many pitfalls they impose upon inventors. The Wheelie Bin Cover was then designed specifically so that its construction would suit a wheelie bin, hence the dustbin cover evolved into the Wheelie Bin Cover. It was designed and constructed in total secrecy by Nick within his garage having functionality in mind from the start to allow a wheelie bin to be entered within the cover in a forward moving manner on its wheels. Manipulating a wheelie bin in this manner allows for ease of movement at all times, unlike stores currently on the market which require the wheelie bin to be manually rotated through 180 degrees. Turning a bin and pushing it into an enclosure is physically difficult, even for a healthy person, let alone a disabled or frail elderly person. With the wheelie bin inside the cover, the user pulls the flower tray directly towards themselves which action automatically raises the wheelie bin's lid allowing rubbish to be dropped inside the tray and is closed when the tray is pushed back to its normal position.
The unit's door and tray may both be locked to prevent other people placing their waste into your bin or even stealing it entirely. Locking the bin also stops arsonists from setting fire to the plastic bin and any inflammable contents. Serious damage to both property and injury to people are sadly occurring very frequently in nations across the world. Wheelie bins are also being stolen to carry stolen lead taken from church roofs or to move valuables from burgled premises to vehicles parked away from the crime scene. The wheelie bin cover may also be permanently safely secured to a wall or the ground by anchor bolts to prevent its theft or abuse.
Ironically, although wheelie bins are now in use throughout the world, Nick still has his planter hiding his old dustbin beside his door because the local council decided not to introduce wheelie bins in the area.
N.B. To visit the Wheelie Bin Cover website just click the banner at the top right of this page.